Marrying A High School Girl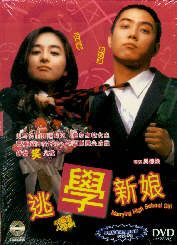 Story :
Pyong Gang is a high school girl with a reputation for being bad news. Consequently, despite her good looks, guys mostly steer clear of her. But when she visits a fortune teller, she receives some frightening news of her future : she must marry before she turn 16, otherwise she'll die!
Thus begins her desperate effort to find a high school hubby before it's too late. And it seems her only chance is On Dal, a transfer student who doesn't yet know enough to steer clear of Pyong Gang. Can Pyong Gang convince On Dal to take her hand in marriage before her not-so-sweet sixteen?
Comment :
Klo baca dari sinopsisnya sih terlihat menarik ya, tapi ternyata film ini : ANEH!!!

Dari awal aja idenya udah gak masuk akal. Alasan Pyong Gang musti menikah sebelum dia berumur 16 adalah karena dia dihantui oleh Putri Pyong Gang yang juga meninggal di umur 16 tahun dalam keadaan patah hati. Dan seperti putri Pyong Gang yang mencintai On Dal, maka si Pyong Gang juga harus menikah dengan orang yang bernama On Dal.
Kalo cuma ide yang aneh, masih bisa dimengertilah. Eh ini mah alur ceritanya juga aneh dan boring banget. Lucu-nya maksa. Aneh rasanya liat Pyong Gang bisa terbang macam di film silat.

Trus pemaksaan Pyong Gang ke On Dal itu lho (walo demi alasan mempertahankan nyawa) juga terlalu berlebihan. Dan On Dal-nya itu lho. Toble sih toble, tapi masa sih ada cowok se-melempem itu?
Intinya mah, film ini gak perlu ditonton deh kalo gak nganggur - nganggur amat.
Rating : 4.5/10
"Sorry if I'm being too pushy. I just want to save my life!"
*Pyong Gang*