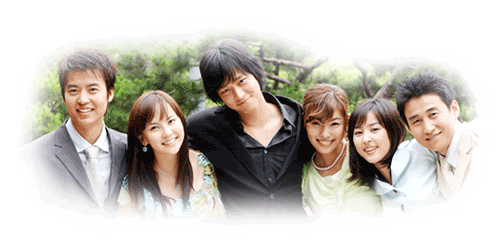 Cast:
Kim Jung Hwa, Kang Dong Won, Han Hye Jin, Lee Byung Ook, Kim Ji Woo, Kim Seung Min
Story :
Kim Dae Hyun (Kim Jung Hwa) is a young and sincere middle school teacher, who has little interest in money. She is also extremely warm-hearted and loves to help other people. When she helps carry an elderly man's belongings from the train to another location, the elderly man is extremely thankful.
This grandfather turns out to be the extremely rich owner of a group of companies. His grandson, Lee Jae In (Kang Dong Won) is a quick-tempered businessman who rivals his grandfather, but in an almost comical way.In an order to "tame" his favorite grandson, the grandfather agrees to give his entire fortune to the person who marries Kim Dae Hyun, therefore forcing Jae In to meet the girl whom his grandfather chose.
Although at first Dae Hyun and Jae In don't get along because of Jae In's extremely cute but bad temper, their arguments bring them closer together. Jae In starts to get jealous when Dae Hyun's fellow teacher starts liking her too.
On the other hand, Jae In's cousin, Min Tae Ha (Lee Byung Ook), who is eager get the entire fortune, goes after Dae Hyun. Later he falls in love with Dae Hyun's friend, Jung Hyun Jin (Han Hye Jin) instead. Hyun Jin is a doctor who was adopted by Dae Hyun's family after she escaped from her abusive father.
Through the clever conditions that his grandfather makes, Jae In starts a relationship he does not look forward too. However, what looked like a relationship that would 99% not work out, turns out to be the "perfect" match, the 1% chance.
cre : soompi.com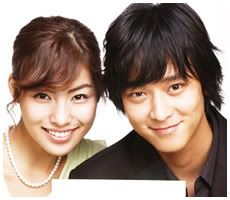 Comment:
Such a funny and interesting romantic comedy. Itu komentar soompi tentang drama ini dan gua setuju 100%. Drama ini bener-bener ringan dan bisa dibilang gak ada orang jahat disini. Ada sih yang reseh tapi jelas gak bisa dibandingin dengan tokoh antagonis yang umum ada di drama Korea.
Unsur kekeluargaan kental banget di drama ini. Keluarga Dae Hyun benar - benar gambaran keluarga harmonis yang ideal. Suatu gambaran keluarga yang sangat jarang ada di Korea, dan juga di Indonesia rasanya. Langka banget (ato mungkin malah gak ada) orang tua yang sebaik orang tua Dae Hyun. Buktinya mereka ikhlas mengadopsi dan kemudian membiayai hingga dewasa seorang anak yang sama sekali gak punya hubungan darah dengan mereka. Dan bukan cuma 1x mereka melakukan ini.
Trus gua juga suka dengan pasangan Kang Dong Won - Kim Jung Hwa. They look good together.
Sayangnya,gak ada yang sempurna di dunia ini. Kelemahan drama ini adalah teksnya yang ngaco banget dan menurut gua banyak adegan yang gak guna. Ato mungkin sebenarnya berguna tapi karena teksnya ngaco, membuat gua jadi bertanya: "Hah? Maksudnya apa sih tadi?" Teksnya ngaco banget di 4 cd pertama,1/2 beres untuk cd -cd selanjutnya,tapi baru 100% beres mulai cd 16. Tapi di luar itu, gua suka banget dengan unsur kekeluargaan yang ada di drama ini. Dan biar pun teksnya ngaco, gua udah nonton 2x lho.

Rating :
Hem dilema.

Kalo mengingat alur crita yang ringan dan sweet nya adegan - adegan disini,gua pengen kasi nilai 8 bahkan 8,5. Tapi klo inget teksnya dan berbagai adegan gak guna, gua malah pengen kasi nilai 6

. So mending nonton aja sendiri ya.
"We don't have to have blood relations in order to be brothers and sisters. Flesh and blood, those are just things that we're made of.In a real family, what matters is our hearts. We care, show concern and love. Anyone can be family too"
*Dae Hyun's Older Brother on 1% Chance of Love*